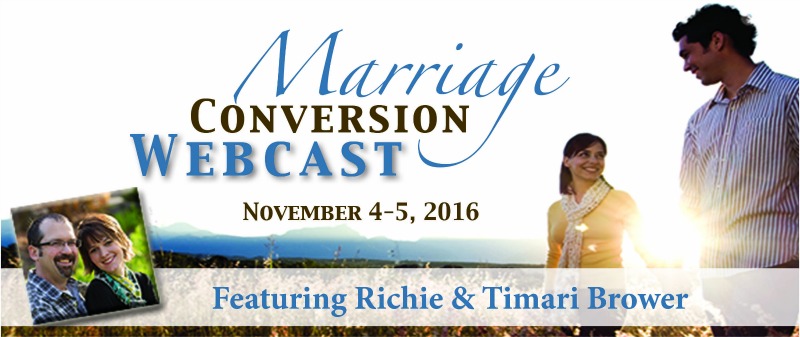 The Marriage Conversion webcast will be streaming live from UCA Church this coming Sabbath. The event will be broadcasting on the internet so you can attend at home, or you can attend in person at the church. This is a great opportunity to strengthen your marriage OR you can invite friends, neighbors, and family to participate in this event and strengthen marriages around your neighborhood.
In a weekend filled with laughter and raw honesty, our church's very own, Richie and Timari Brower will share their story of brokenness and redemption along with the biblical principles to grow any marriage. Richie & Timi do an excellent job of sharing Biblical, sound tips & advice from their own personal experiences which are shared with transparency, humor, and compassion. They have a special gift for this kind of ministry.
What to expect at the seminar:
4 Live streaming sessions: Four teaching sessions will be broadcast over the Internet Friday night and Sabbath. The live video presentations will be recorded with multiple cameras and well produced. There will also be guided couple application time built in.
Interactive Q&A: Participants at remote sites can join the live Q&A sessions via texting or email – actually getting answers to their questions in real time during the webcast.
Follow-up Resources: A weekend event like this can be a great kick-starter, but it can also be like drinking from a fire hydrant. They'll be sharing materials and resources that you can use as a couple or group to continue the journey you've started.
Prayer Support:  A team of prayer warriors will be praying for both our local audience and our remote audience. They will be thrilled to take your prayer requests over the weekend and lift them up to God on your behalf.
Made For You Invitations: If you'd like to invite friends or neighbors to join you, you can use the predesigned invitations on the Marriage Conversion website. Just download the file, print the invitations and customize with your local information.
Want to join in?
Register online at marriageconversionuniversity.com/webcast/
Or join us at the church on November 4 and 5.
Friday's segment starts at  6:45 p.m. at the church or 7:00 p.m. online.
Sabbath's segments start at 11:00 a.m. at the church or 11:15 a.m. online.